Don't Open the Door
Waterloo East Theatre
3rd to 15th August 2021 7.30pm, Sundays at 4pm
Tickets £14 • Box office 020 7928 0060 • Book here
An old woman comes back to consciousness on the sofa in her living room. Leaning over her is a stranger. She can't quite remember what happened. Did she fall down the stairs, or was she pushed?
A note from the author
Don't Open the Door is a domestic drama which reflects political and social questions. It is not overtly polemical, but the two characters are thrown together and forced to look at themselves and the society they live in. She lives in Highgate, he lives in Tottenham, a few miles away but a world apart. I've lived in London all my life. I love this city, but while it has been kind to me it has been cruel to others. Because it is a huge, international urban area we Londoners watch the news and it is often taking place round the corner from us. Sitting at home I see a street a few minutes walk away with police tape and flowers left on the pavement. The signs of some personal tragedy for a family and a grim statistic of violence to the rest of us. The victims are nearly all young and black. I am neither of these, I think complacently, so I can avoid it. In my play a young, black man comes in to that safe environment. We are not sure of his intentions or if he is who he says he is. Is he lying to her? Is he a threat? As they are forced to share the same space, they begin to express truths about themselves that they have never told anyone else about. 'How many servants did you have in Africa?' he asks with more than a hint of envy. Privilege benefits the few, but is a danger for the many.
—Richard Roques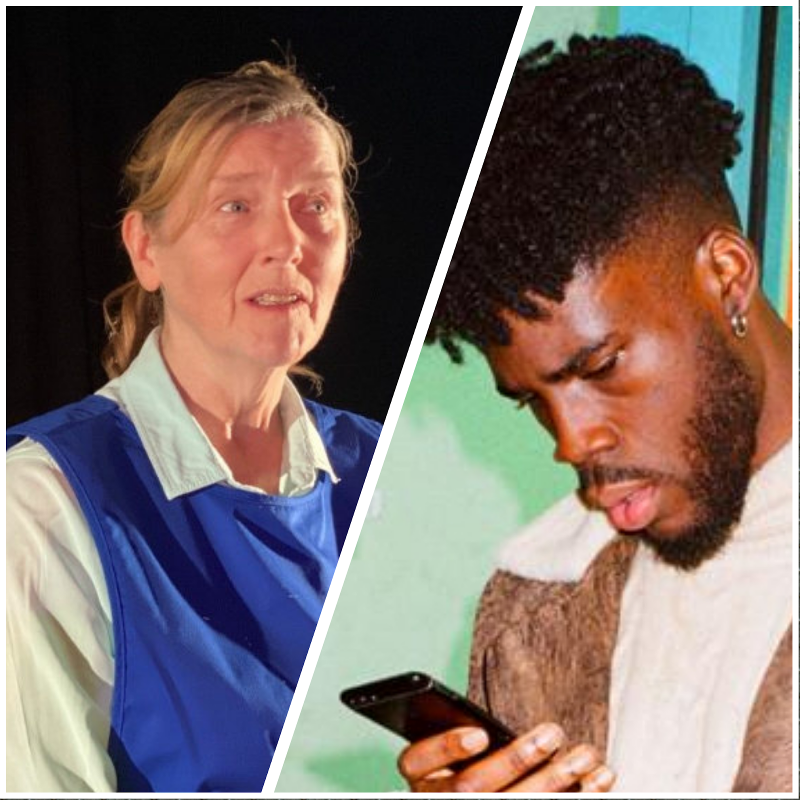 Janet Behan / Alessandro Babalola
Janet Behan, The Woman
Janet's acting career spans almost 45 years. Work includes plays at the National Theatre, Royal Court, Lyric Belfast, Gate Dublin, Chichester Festival and television includes Eastenders, Silent Witness, London's Burning and The Bill. As a writer, her play Brendan at the Chelsea (re-imagining her celebrated Uncle Brendan's final days at the Chelsea Hotel) was a sell-out success both at the Belfast Lyric and on tour to New York, Dublin and Derry. She will be performing her solo play Why Shouldn't I Go (***** TheUpcoming) at The Lantern Theatre, Brighton in September.
Alessandro Babalola, The Man
Alessandro Babalola is an actor and writer of Nigerian descent, born and raised in Leyton, East London. After graduating from the Arts University of Bournemouth he performed in various short films, Off West End plays and Fringe Theatre productions before landing Flesh and Bone (National Theatre, Soho Theatre, Fringe First) with Unpolished Theatre company for which they won an Olivier Award in 2019. This led to him being cast in season 3 of Top Boy on Netflix and another Netflix original, Cursed. He recently completed filming on ITV's series The Unforgotten, Guy Ritchie's upcoming film Wrath Of Man and Nigerian Netflix film Blackmail. Alessandro has written two plays; Invincibility which premiered in 2019 and The Perfect Companion which first showed at the Pleasance Theatre in November 2019.
Richard Roques, writer/director
Richard has written nine full length plays for the theatre and a number of short stories. Whistleblower - the story of Edward Snowden was described in the Guardian as `...always watchable. Events unfold with a thriller-like momentum…' He is the author of two novels and is a walking tour guide in London with a repertoire of forty different walks. More on Richard Roques.
Russell Grant, The voice of the policeman
Director: Richard Roques
Stage Manager: Gareth McLeod
Lighting Design: Jennifer Cashman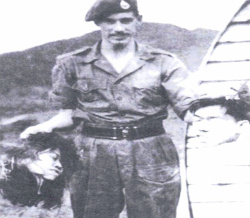 As she recounts her time in Malaya the Woman shows the Man a photo. This is the photo that they look at.
More can be found at morningstaronline.co.uk/article/f/how-morning-star-exposed-britains-decapitation-war-crimes
---
Don't Open the Door, Waterloo East Theatre, 3rd to 15th August 2021 7.30pm, Sundays at 4pm
Tickets £14 • Box office 020 7928 0060 • Book here